Swashbucklers
The Original Start was back in and around 2001 by the Late Great Joe Osteen. Osteen was a writer of 3 pirate novels and a huge enthusiast of Pirate Lore and History. He started the crew with the title of the St. Augustine Swashbucklers, Pirates and Buccaneers Social Society. A mouthful of a name but exactly what pleased Joe.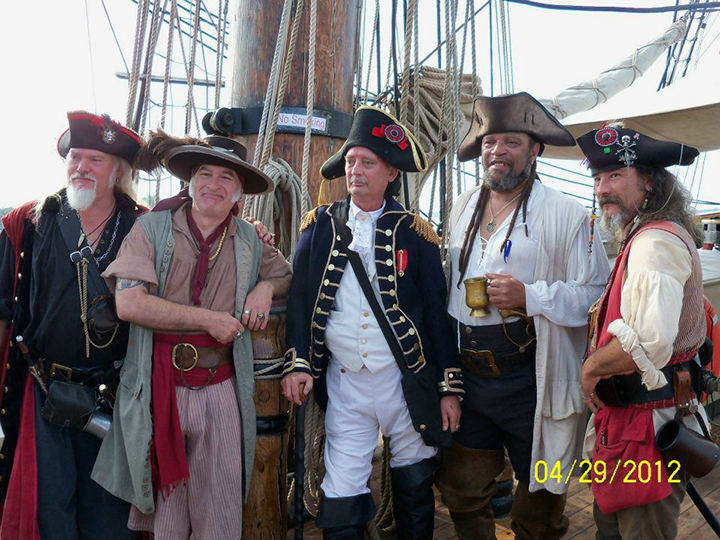 The Great Joe Osteen with 4 PirateLords
It was just that, a social group that got together, put on their best pirate gear and went to dinner and social outings around St Augustine for the pure joy of entertaining all the on lookers with their Fine Pirate Attire and in Joe's Case his knowledge of Pirate history. Joe was a FL. Native and was well versed on the history of the area. 2003 kicked his little band of pirate socialites into high gear with the very first Pirates of the Caribbean big screen movie. It wasn't just the Swashbucklers that had their sails filled with a pirate wind, pirate crews all over the state and even the country truly started springing up everywhere like empty bottles of rum at a pirate fest. Yes, there were many crews before 2003, but Joe had started in 2001 and there were even fewer then. Joe Osteen was a pioneer and saw the value of friends and family dressing up in close to authentic pirate garb and using this as a vehicle to educate people on the history of the sea, pirates and of course the local history too. His enthusiasm was contagious and on into 2006 his crew grew to several dozen.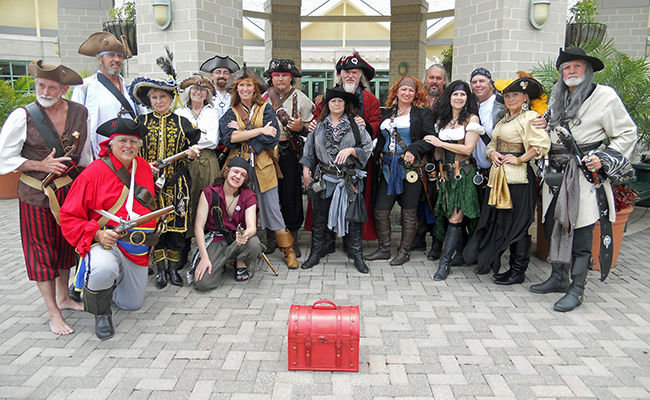 T Crew for Fl Attractions Breakfast 2014
Enter William Mcrea, aka William Mayhem, who arrives on scene in 2007, from 20 plus years of entertaining experience in Las Vegas. He begins his pirating fun as a special guest in what was then the Spanish Taberna de Gallo on St George street, performing various sleight of hand and close up magic routines for the tourists as they enjoyed their sangria.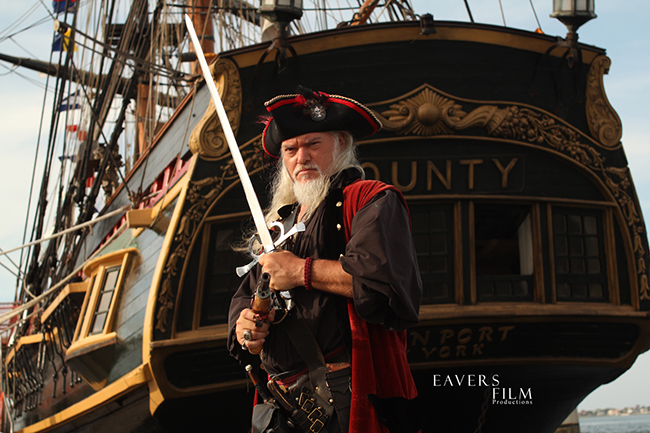 William Mayhem and T Bounty
Then Joe and William happen to meet and discover that their relatives of past generations in St Augustine's history, were not only friends but neighbors in the downtown area, living along Charlotte street. And a bond was set.
In 2009, with Joe's insistence, William Mayhem became the public Captain for the crew with Joe Osteen as the strong behind the scenes Quartermaster. The name was shortened to the St Augustine Swashbucklers and membership grew. Fiddler' Green opened its Gates to Joseph Osteen in 2012, when he passed away surrounded by his family and friends. To this day, a toast, a cheer, or a rowdy Huzzah can still be heard at all gatherings of the crew of the St Augustine Swashbucklers as they raise a constant tribute to the Man who started this crew 14 years ago, and will continue in his honor.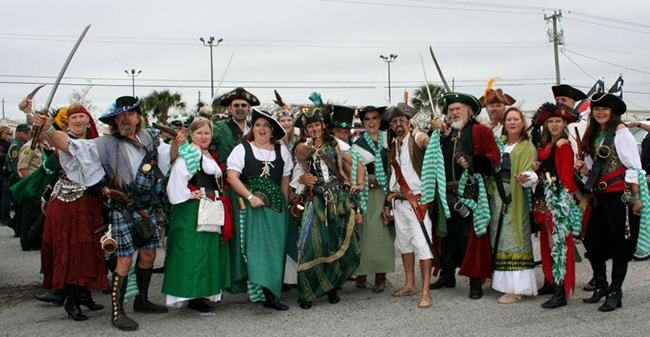 The Crew has gone thru many changes, boasting as many as 120 solid active members at one time, but as time moves on so do the attitudes and purpose of people and life. Over the last 6 years the crew has done charitable work for the Cancer Society, Give Kids the World, Dreams Come True, Make a Wish, Local and Various Food Banks, Society for Autism, Beach Clean ups, A1A scenic organization, St Augustine 450th, Romanza, City of St Augustine, Grumman Air, and even a yearly Christmas Toy drive now beginning the 4th season of collecting. The amount of money that all these and other charity organizations have accumulated over the last 6 years could with the assistance of the Swashbucklers could well be over one half million dollars.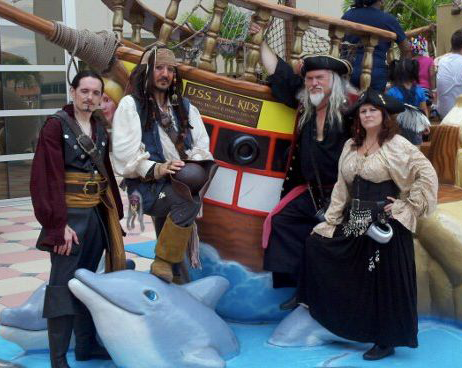 Childrens Hospital in Tampa, Fl.
Just this year the St Augustine Swashbucklers in a bid to protect 14 years of grand and glorious history, registered the crew not as a 501 but as an LLC, still maintaining a charter, code and set of by laws that sets forth the giving of over 80% of all money raised to the charities and organizations it has so faithfully formed a relationship with over these years.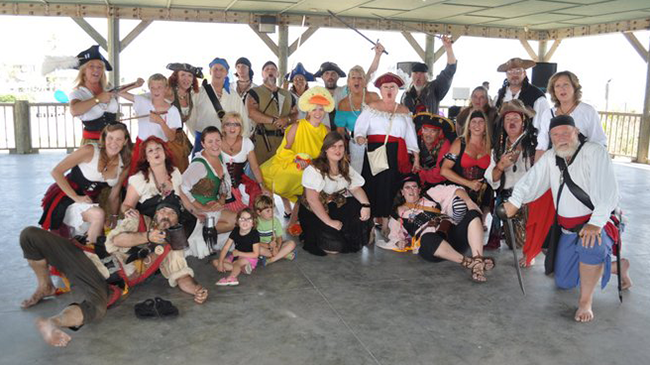 For any event you may see us doing Pirate games, sword fights, black powder demos, sea shanties, photo ops, magic shows, juggling, mermaids, activity tables of art, face painting and jewelry making for young and old alike. We even boast a 23 ft long parade float ship, which has won several trophies in the parades and displays its been presented to.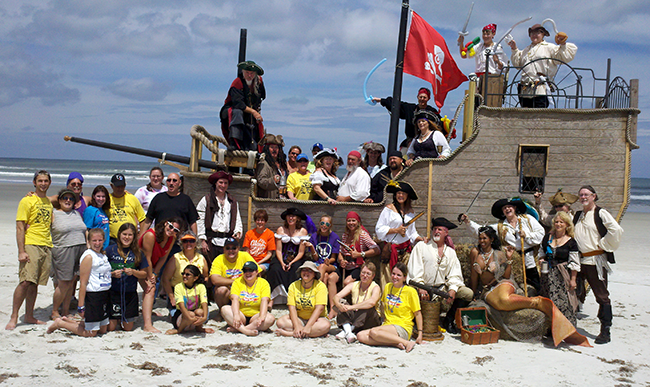 If you would like to join this crew and be a part of the fun and joy we bring to others send us a letter of intent with your name and a bit about you to this email address: jointheswashbucker@yahoo.com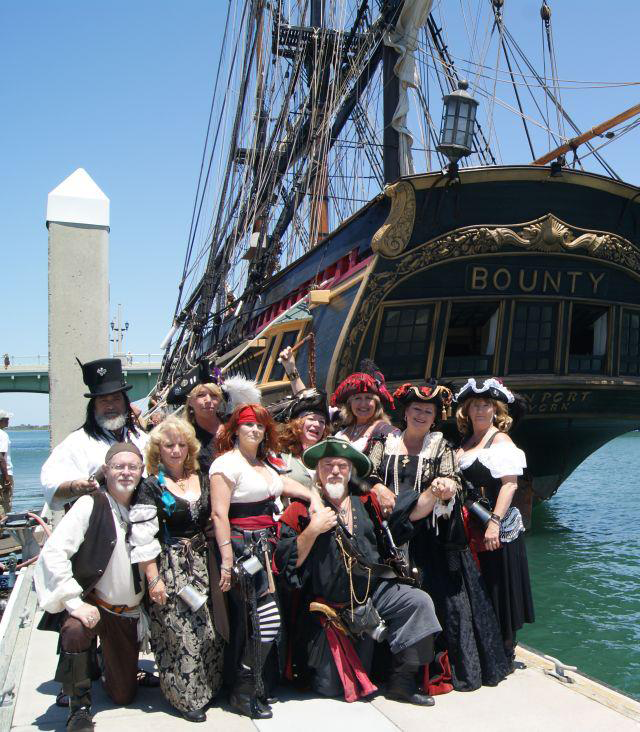 If you would like information on having this fine crew at your festival or event please send a private message or email to wmmayhemweb@yahoo.com